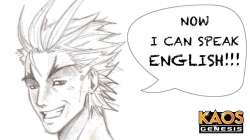 We had implied several times without really telling it, but this time it's official, KAOS GENESIS website is also in English.

In fact, we did not measure the spread of KAOS GENESIS in the world and several emails from readers around the world who were struggling with Moliere's language prompted us to remember that « The World speaks English ». It is in this context that we decided to open the doors of KAOS GENESIS to everyone.
The first volume of the novel, named "Aele", will not immediately be translated into Shakespeare's language, but the possibility is not excluded and is in the pipeline. Obviously, if that happens, you will be the first to know. In the meantime, we await you regularly on our website for more news.

See you soon.