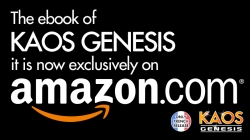 In fact, we've never talked about it and worked in great secrecy for the surprise to be complete. And finally that day arrives, the availability of the french version of KAOS GENESIS - AELE in digital format before the "ultimate" release in 12-12-12.
The TEKA put itself to some trouble to prepare this big surprise, already scheduled for some time in our office !
• So why have we prepared this e-book version ?
The reason is simple. We are in the digital era, and many fans of KAOS GENESIS own a smartphone, a tablet or an e-reader. In this context, we wanted to please our readers and future-readers. Obviously, the two versions, e-book and paper are completely identical. The only difference is the file format.
• Where can you get the e-book version of KAOS GENESIS ?
The e-book version is available right now, exclusively, on the Amazon store.
• How does it work ?
You can read e-books, bought from Amazon, on a PC, a Mac, a tablet or a smartphone by downloading the free KINDLE app on the AppStore, Google Play, or by clicking this KINDLE link.
It just takes a few minutes! Search for the e-book of KAOS GENESIS - AELE on the Amazon store (you can read an excerpt for free). Download it, sit comfortably and start reading.

The doors of the world of KAOS GENESIS open to you and we wish you a great reading and a great trip !